Ode to a Hometown
August 20, 2012
O, city whose arches and whorls can be found on my own fingertips,
You are more beautiful at night.

Guttural moans rise with hot air and the smell of metal through pores of stark concrete.
In the rain, these streets are rags, gray and glistening.

Even now, there is no quiet. Lilting tempo and discordant rhythm are ceaseless.
An iambic urgency counterpoints my own heartbeat. O, Brooklyn
of murmured chaos.

Men on benches are shrouded in the mist of their own breath. You give them nothing
but your garbage for shelter.

An inscrutable façade lines your sky, blocks out the light
of stars. There is no sympathy to be found here.

Only darkness, silty and silent, envelops my upturned eyes; gluttonous,
frigid. O, Brooklyn
of injustice overlooked.

Addicts accost me with swollen words that drip
from cracked lips like saliva, each syllable lost
in the rumble of an austere metropolis.

Boys with heavy metallic convictions tie a thread to their trigger finger. They will learn to relish sound of gunshots at night.

O, grotesque, magnificent home. O, Brooklyn
of decadent dysfunction.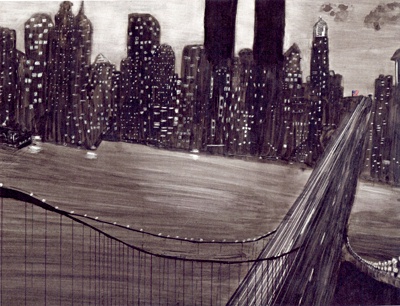 © Breanna Lea B., Richmond, VA