First kiss
August 18, 2012
I looked into your eyes,
And you looked into mine,
Our hands touched,
Sparks flew.

I love you,
I remember you whispering,
I love you too,
I smiled back.

We were in the empty hallway,
The bell for the last period had rung,
But we didn't care,
We wanted to be together.

He leaned in for a kiss,
I kissed back,
It was Amazing,
My heart was racing,
I wonder if he heard it.

I just had my first kiss,
I'm speechless,
I don't have words to describe of how amazing it was.

He smiled at me,
I couldn't keep from smiling either,
And I knew he felt the same way,
Neither of us wanted to leave,
But we knew we both had to.

Bye love,
He whispered.

I quickly kissed his check as we walked the opposite ways.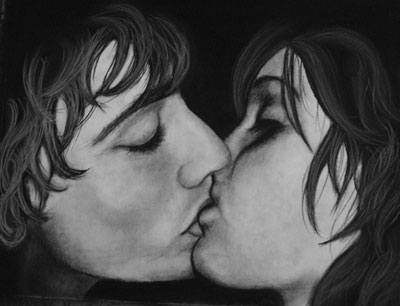 © Anna Y., St. Robert, MO