Candy Girl
August 18, 2012
I Remember Waking Up One Morning; 'Thanked The Lord For Starting Me On My Way

Then Got All Dressed Up To See Mr.Goodbar Cause It Was Another Payday

And As Roseanne Started To Come To An End I Knew It Was Time To Go

So, I Stepped Outside And Kind Of Felt Skittled Cause I Could See The Rainbow

And I Stood There For A Moment Cause There Was Some Sort Of Emptiness In My Heart

But I Decided To Start Walking And As I Turned The Corner I Met The Almond Joy Of My Life, My Sweetart

And If Any Of Those Nerds Or Smarties Tried To Holler AtHer, I Would Definitely Fight

'Cause I Only Wanted Her To See Me Like Mike And Not Like Ike

I Made Up In My Mind That I Would Never Leave Her Nor Forsake Her

And If She Ever Got Out Of Line, I Promised I Would Be Her SugarDaddy, And Not A Jawbreaker

And Just To Be Sweet, This Is What I Said:

Sorry For Being A Milk Dud But Sometimes I Can Be A Whatchamacalit, An Airhead.

So Don't Take My Gobstoppers As Not Being Kind.

And Please Don't Snicker At My Silly Rhymes

But You Are The Name That Comes To Mind When I Think First

You Are The Milky Way That Cause My Mind To Go Starburst

You Are The Hershey That Give My Kisses Flavor

You Are The Best Thing That Happened To Me; You Are A LifeSaver

And After Me Pouring Out My Heart And Causing This Poem To Linger,

She Looked At Me, Smiled And gave Me The Butterfinger.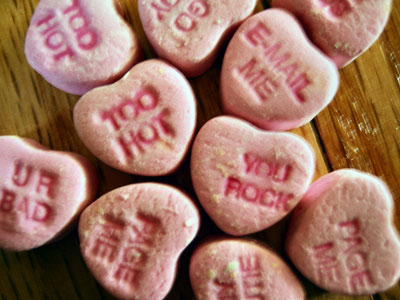 © Valcy E., Stony Point, NY