Lost in Memories
August 10, 2012
Death brings pain and aches to heart
That nothing else fills it but grief,
With the lost of that one so close, sorrow, pain, and lost time
Will begin, to flood our hearts.
Old friends brought out into the light where it felt like only yesterday.
Memories of your fun times together come back in a flash.
On those hot summer days,
Where the dry still air hung over head with no sense of movement
Those lazy days where nothing got done.
Where the trees seem to almost catch fire, from the scorn of the sun.
Where you two just laid around
Watching as the clouds go by.
Watching as that one, small, gray cloud curls and flows over head.
Hoping it with drop something kind and cool. Hoping for that
Single drip of coolness to land atop of your warm head.
And hoping that soon mother earth will bless those stuck outside,
Feeling like their melting to oblivion with just a single cool breeze.
A breeze that will roll over your body slowly. And wipe away all troubles
Like the broken air conditioner
Which was why you to retreated to that kiddie pool
Full of toys and fish lining the side in some hope
Of forgetting your troubles.
Ah the good old days.
Death may bring the lost of someone you knew all too well.
It will stir up lost emotions left to drown in the work hardened mind
That you have now become.
But it will uncover those lost tales, stories, and memories
Oh how they went unheard for oh so many years.
The best of times, the worst of times,
And the flat out ridiculous time the two of you spent together.
Like the time where you both fell asleep in the mall,
Not knowing they closed early on Sundays.
You guess the guards got lazy and missed your little home for the night
You both knew what you could do. To reign over the vast space left to you.
But that day didn't seem to end too well. You were thrown in jail.
Someone, some how heard the banging and breaking of glass.
Guess it was the one guard that was kicked from his home by an upset wife.
But you thought it was well worth it.
Death may stir up those lost emotions from long ago.
Finding the love you should have been with laying in a cold sleep.
All those good times are now coming back.
Like that one day where the lost love, almost kissed you.
On that faithful rainy night, where you finally watched that movie
They always talked about.
Death is such a strange thing.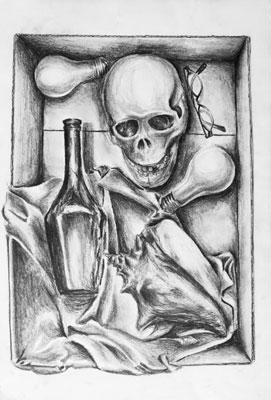 © Karen S., Norwalk, CT