Awake
August 9, 2012
Why am i still awake?
Staring at the wall,
hands folded on my chest,
breathing slowly without a night of rest.
Stop thinking I tell my brain.
Thoughts, they go fast
but never seem to subside.
Eyes opening but never
seem to stop wandering.
Time ticking away,
me loosing time, minutes, hours, days.
Rolling in a unforgiving nightmare,
I rise, staring in a space of darkness.
Why am I still awake?
Struggling to drag my heavy body
to the starting line,
the day has begun without me.
My body quivers as the alarm
vibrates and replaces the
feeling of tranquility to urgency.
Birds practice nostalgic hymns
as the sun being to give
the neighborhood its natural hue.
Yawns replace the instrument
used for smiles,
no energy to emanate,
being of no use to anyone.
Why, why am I still awake?
Can't shut off my brain,
can't sleep.
There's so much inside of my head,
like generations and generations
filling books of discovered family.
Discovering within my mangled
thoughts, the answers to,
to problems unsolved.
Why am I still awake?
I will never know until
I rise the next day.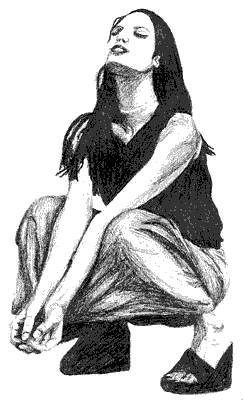 © Andrea S., Oakhurst, CA