Restless Thoughts
August 8, 2012
Sleep deprived;
Drowning in the restless waves that take you under.
This is just another night that has been taken and stolen from your thoughts.
All night long,
sitting up wandering through your mind.
And most of the time,
Its just wondering why you cant sleep.
Questioning why its so difficult to just close your tired eyes..
To drift off into a place better then this.
A place where dreams can hold you when the rest of the world doesnt know how to.
But your mind wont settle.
It wont grasp whats in
desperation to be touched.
And now your body grows weak at the sound of
the clock constantly ticking.
Your stomach turns at the sound;
You feel sick.
Because each minute,
Each hour is a time that you wont ever get back.
A time that will never return.
The clock has begun to mock you.
Laugh at your insomnia.
So being the person I am,
this feeling is very familiar.
Most nights I just expect it.
Other nights,
I take advantage of every chance there is to catch up on my dreams.
And to forbid the thoughts that torment me.
While everyone rests just perfectly fine tonight,
You are sitting up distressed for absolutely nothing.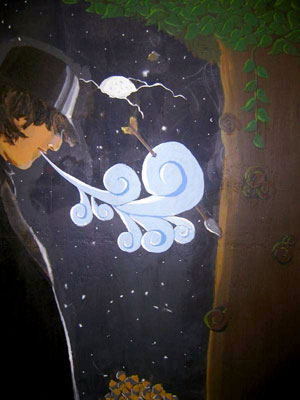 © Dean W., Hinesville, GA