"Where Am I?"
August 8, 2012
I blink and my breathing sounds raspy,
I am in a world full of regret and sorrow.
The path I trodden is murky and hugs my shoe,
Leaving grime and brown gum.
I am heavy,
I feel incompetent.
I claw at the trees,
But they fade into my hands.
I am in a mirage.
I hear my name being called,
From above.
I stare at the sky with a smile,
But evolves into a ominous frown.
There is no one in this world,
But me.
My name echoes all over the land,
Penetrating my brain.
I am shaking.
My hands and feet are bare,
Just a thin garment laces my chest.
BEEP, BUZZ, TewTeWtew!
I am awaken,
And astounded by these machines.
I lurk them down with all my might.
I don't deserve all this.
The doctors and nurses all rush in,
And criticize me for what I have done.
I cup my hands,
And catch the water droplets from my face.
Slowly, the teardrops splatter color and I am back to
The mirage.
I am bespattered.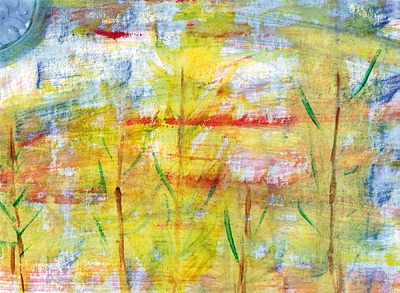 © Raymond G., Phoenix, AZ