Quake
August 7, 2012
Midnight Thursday,
she sits her naked legs down
on burning pavement—
burning with dully screaming cigarettes
and filthy with dirty money and
dirty boys and girls.
And the filth folds itself
into her flesh
where it lays pale white and dormant
and it shakes—
it shakes
until dirt and city grime
make muddy the purest red of her bloodstream.
There's night music playing far away,
far away with beautifully-scribbled sheet music
in ink-black and elegance
and she can't hear any of it anymore.
There's a parent screaming—
it could be one of her own and she would never know—
but God knows they would both be screaming.
There are dark hot footfalls
centimeters away from her tender ear,
and they are the ballerina chimes of the music box
that kept her sleeping for ten years.
And it's there, high up and far away,
away in stretching miles of artificial-starlit darkness.
She looks up at the Chrysler building and
laughs, laughs, deep in her aching gut.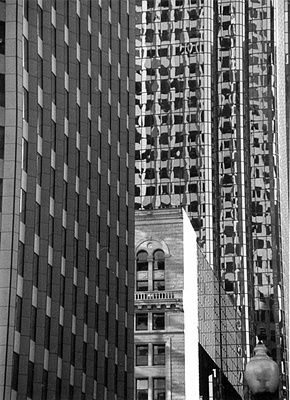 © Natalie D.,Marblehead, MA