Prismatic
MAG
August 7, 2012
I. God, I wish I could draw:
the one single photo of you is too dark,
from the street lamp above that flickered out into ignited dust.
I would shade in that artificial starlight that used to live beneath your ribcage
with a little yellow-colored pencil
(yellow because all I have is a 12-pack, you required ones with grandiose names like cerise and citrine and coquelicot).
This photo of you doesn't quite know
where to find the birthmark on the back of your neck
so I'd draw that one on, too
in a celestial blue, perhaps a tangerine
because you never fit birthmark-brown.
In scarlet, I would sketch the way you once split your lip with a smile
and in carmine, the way the blood dried while you slept
and I would draw your nervous-tick tongue darting out
to taste the wound
(not a thirst for blood, you would drawl. It was the craving for familiarly chapped lips and the corners of your mouth dry and cracked).

II. I would not draw the metal and burned rubber crushed against your spine
or the bruised bones of porcelain or the blood on your busted-up lip
(you fell asleep but you never saw it dry).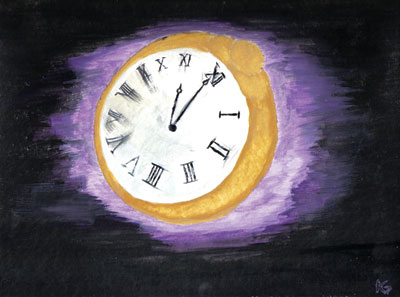 © Kyle G., Clarksville, TN