Leftovers
August 6, 2012
Bright fakeness
Crisp sheets like brand new printer paper
Sterile
Observed, prodded, examined
Under a microscope
Continental drift as your cerebrum gapes open
The golden dubloons of your memories
Snatched away
Beaten into a malleable material
Shapeless
Devoid of creation
No sensation
Deprivation
Quarantine walls
Whitewashed and bleached to the point where no type of organism could thrive there
Spotless and pristine
Like your mind
Resting on a pedestal
Your sanity
They tarnished the once gleaming metal
Smudged with dirty thumb prints
The elegant etchings illegible
Wasted
Expectorating unwillingly the cherished lullabies of cherubim and seraphim
Wispy tendrils of Alleluia
Blown away
From their iron turbines
You. Are. Empty.
Void of pure oblivion
No more rustles of wind
No prickling of heat from overreaching rays
The ravenous beast devoured your mind
That's all you are
The leftovers.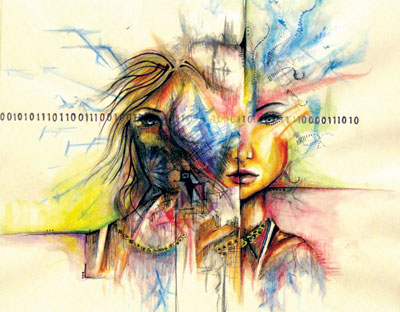 © Melissa W., Fayetteville, GA