this is a game
August 2, 2012
we're always playing [chess]
this is a game where the pieces
are liable to break down,
confront their past,
kill themselves -
blood staining the purely
black and white view
that only the squares can hold.

this is a game where the pieces
are liable to rebel against
authority,
and knights take two turns in a row
because they have
more horsepower
than horses had in times before,
in days of old when the rules used to apply.

this is a game where the pieces
refuse to take order,
to follow the openings
prescribed to them by a
coffee addled doctor -

where checkmate and check
could mean the same thing,
if your checks keep on bouncing
and the king has fled the castle
and the queen cries while
rocking her baby, alone -
back at square one with
her pawns dead at her feet and
her knights a thing of the past (they had
only helped her when she was young and
wore the crown on her head proudly)
and her bishops and god has abandoned her,
[





god is dead.]

this is a game where the rooks [spitting
fury in black] lie
in wait, for the rest to die. so that the opposing
side grabs the
throat of a queen garbed in white
[in red, in the blood of her innocent baby
cloaked in fright]
and throws her to the side,
to the sidelines, to the streets
and hell and horror.

this is a game.
everything is a game.
the streets are a game that
only the dead and dying play.
the queen lost power when she left the board.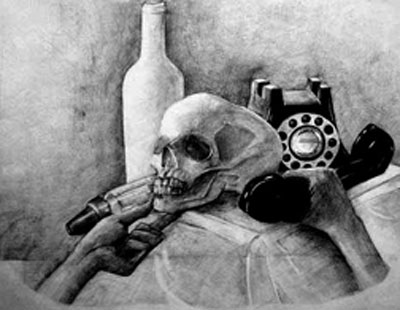 © Xiao H., Naperville, IL