A Play of Stargazing
August 1, 2012
The dew on the grass transferred to her pants as she sat down.

The night was cold and dark,

perfect condition for stargazing.

Armed with a flashlight,

she laid back an d looked at the stage before her,

a beautiful play was being held

of twinkling stars,

and a few falling.

*

During intermission as a cloud covered the sky,

mist started to surround the girl.

It was a dark mist that stopped her flashlight beam flat.

It engulfed her and swept her off of her feet,

she tried to scream but the mist stopped that too.

The mist slowly began to rise,

it cleared at the top so she could see,

and she was astounded.

The whole "cast" had stood at the edge of the stage

reaching out for her,

she grabbed a hand,

but slipped.

The mist had gone,

and she fell…

*

When she was about to hit the ground,

she woke up to a lightening sky,

she had fallen asleep

during the play.

That only meant she had to catch it again

later that night.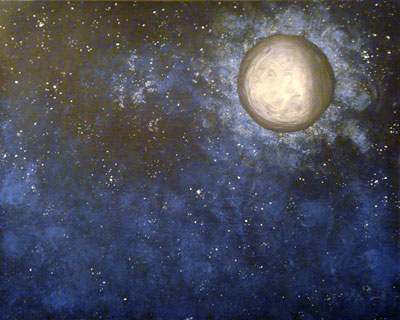 © Allison H., Vancouver, WA