A Part of Me
August 2, 2012
Words in any grammatical way cannot come close to express how truly and deeply great my love is for you. I can only do my best to try to describe it, though it will only be a small glimpse at my love for you. So let the words dash through your sweet, glowing eyes like a chorus of a beautiful song, and read this for me, for I am begging you, because this beast wants nothing but his beauty.

You are a part of me in every way. You are bound by my side, holding onto me as if you could not stand if I was not there for you to lean on. Your head stays on my shoulder with our hands closed in together, our essential glue that will never fail. Your warm and sensual smile gives me more joy than anything this world could offer me. There is no amount of money that can buy the feeling that I have in my heart, nor is there any treasure that I would rather have other than you, my greatest and most triumphant find. You have given me the great happiness that every man desires: for a woman like you to be willing to be with a guy like me. My dream of us being together has indeed come true. We will kiss and hold one another, even if the whole world tries to separate us. You are a part of me.

I am nothing compared to your greatness. I am a petty king and you are the royal and beautiful queen. I bow to you. Your eyes tell me a different story every time I look into them, and whether it is a sad or a happy one, I wish for you to tell me, because you are the only piece of history that I honestly and deeply care about. There have always been wars, murders, rapes, thievery, hardships, bankruptcies, but there is only one you and you are a greater story to tell than any other. You are a part of me. When your lips meet mine, the sun itself falls out of its endless sky and rests in my heart. You are like the mighty ocean, and I am nothing more than a mere feeble fish that cannot live without you around me. You are the air in which I breathe, and if you were ever taken from me my heart would cease to beat, for there is no reason for it to beat without you.
My mind and heart are entirely devoted to you, my love, because you are a part of me. Take me with you on all your journeys; I want to be with you for every one of them. Let me be by your side, to protect you from the wicked evils of the world, and to comfort you among the hard times we all have and will face. We will make it through anything that is placed in our path, expected or unexpected. Together, we will march through the obstacles in our way and make them tremble before us, because we are unstoppable. Nothing can stop our love. This world will try, but it will fail. I will not let this world take you away from me. Without you in my life, I would become blind in a black world of shadows, where I would surely shrivel in a terrible waste and eventually spark into dust that blows away into the heavy wind.
If there are any doubts that are crossing your brilliant brain, then let me let your brain feast on this thought. Throughout the whole, vast universe, amongst the billions of bright stars in the pitch-black sky, we found each other on this one particular planet, on a specific piece of land. We did that against all odds. Call it fate or luck or destiny or whatever you wish, but all I know is that you are with me, so what does it matter? So how can you doubt us when we've already accomplished the hardest step? Think whatever you want, for you are smarter than me there is no doubt, but take this chance to be with me, because this man is begging you, not for the riches of the world, nor the greatest power among men, just you and only you.
We are together and in love. Our light beams over any darkness. I want you and I need you, because that is what my heart desires. My life before you is nonexistent like a faint dream. You are my rebirth to a new and better life that I wish I could live forever in. You have given me a chance to make myself a much better man than I am. With you, my heart is changed. Without you, my heart is hard like a steel door, but it melts whenever I see you. You are the key that unlocks the different side of me. Your touch sets me free, as if my body and soul have been caged all my life until now. Thank you for freeing me, for showing me the brighter side of the world, to let me know that there is still goodness in the earth because of people, better yet angels, like you.

You may laugh because it is corny, or you may cry if you find it touching, either way what is written on these pages is the truest truth I have ever told. Still, I am so far away from telling you how deeply I feel for you. So I am going to show you. I am humbly kneeling before you, holding out a precious stone that sparkles delicately in the sun's bright rays, begging for you to accept me. I don't want you to just to be a part of me, but I want you as my whole. You are my everything and I need to be in your life, and I can't imagine myself going on without your touch or your love. We will be together, now and always, if you wish to accept me. I am a part of you, and you are a part of me. Together, in the midst of total chaos in an unsure and doubtful world of darkness, we are whole.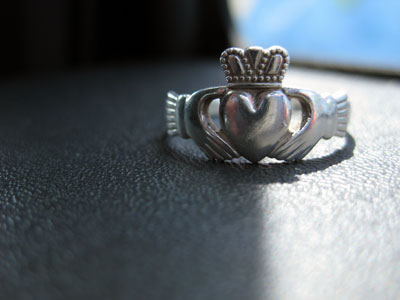 © Kaelyn L., East Northport, NY