Sometime in the Summer
MAG
July 20, 2012
What more is there to worry about
When the weather's not winter
And windows are blushing in the evening,
And Granddad is out on the river in overalls
Awaiting the arrival of all good things?
Sometime in the summer the mailman
will stop
Bringing letters
And the air will become very still.
No one will be swimming, and the waves will hover
Just at the edge of the dark stretch of sand.
You will flay the wicker chair with
your fingers
And light candles when the thunder
comes down.
Cottontails will creep in the field and call you
Into the forest of grass.
Slow and painful death lingers
On the greenest blades,
But such things don't happen to people
Who have dreams,
As you have.

You don't know who Queen Anne is,
You were just born moments ago and
there is no such thing
As history yet,
But her lace is lovely.
You carry it home in handfuls to leave
on the kitchen counter.
Later the flowers will be gone
But you will have already forgotten,
And you will never look in the wastebasket where they lie wilted.
The floor is scoured with sand
But never swept, because summer is futile.
Everyone knows it but you
And that is the beauty of it.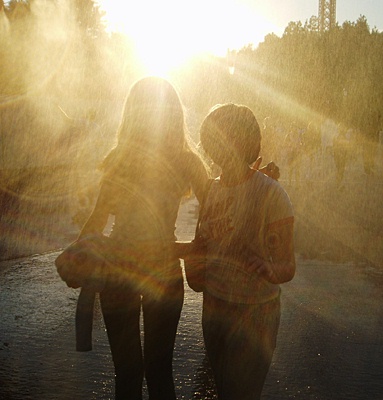 © Rebecca Y., Los Angeles, CA