why is it the blue jay lies?
July 16, 2012
Little blue jay you sit on that fence and tweet away
Not a care in the world to ruin your day
You sing from deep in your heart
You've mastered this beautiful spring day as a fine art.

No one can tell what's in your thoughts
What do you think about when you twitch and twist like a robot?
What do you hide behind all the smiles?
What is the reason for all the lies?

I can see right past your charade
I see right through your masquerade.
I also have secrets to hide
Share with me yours and I'll let you in on mine.

You don't believe what I say?
Well I see right thru your smile today.
You're not as happy as you seem
If you tell me what's wrong I'll fix your esteem.

I have some secrets to share with you
I'm pretty sure you do to.
We both know its all lies
I can see it in your beautiful eyes

Why is it that you pretend?
You can tell me, I have nowhere for the news to be sent
When you're trying to bring joy and hope for tomorrow
All that appears to surface is sorrow

Please little blue jay look me in the eyes
I can see those tiny tears you cry
I hear that under your breath sigh
No answer me this;

Why is it that you lie?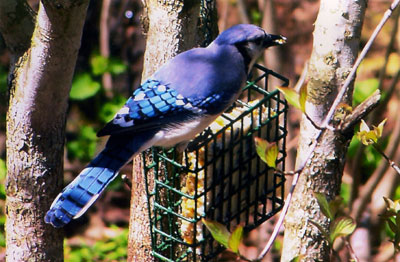 © Meg B., Blairstown, NJ