Human Heart
July 14, 2012
Similar to that of the human heart are
tight, concealed crypts of
love and darkness.

There is of course, some irony in this
for what kind of heart
contains polar opposites?

Surely you'd find only the lovely synonyms;
golden cherubs
a sky filled with stars
sweet morning coffee
during a winter of sparkling snow.

But a heart is not all happiness;
to become something worth loving
it must be
beaten
broken
disappointed
and alone.

A heart must contain darkness
(to an extent)
to understand
you must give and take
all the good and the bad.

A heart is full of opposites;
undying fire and thick sheets of ice
classical ballads and wretched shrieks
lovebites and splitting pain
quiet evenings and life-shattering earthquakes
to show that love is
imperfect
flawed
and must be treated
as if it were human
(they call it the human heart)
and not eternal at all.

Love and darkness
coexist
in small, tight spaces;
after all
they are only our reflections.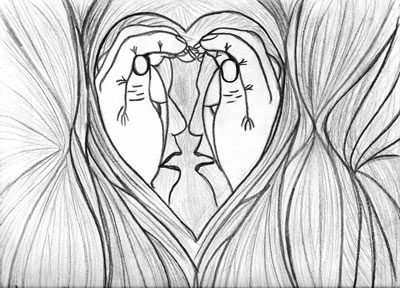 © Roumany P., St. Paul, MN