Unperfect Reality
July 13, 2012
I'll love you forever and ever...
With you I'll move mountains,
Conqure worlds, and steal stars.
We kiss in the rain and
Run through fairytales in our dreams.
We'll plan out our future
Our collages, kids, and hometown.
I'll keep you safe and hold your hand,
Cause I never want to see you fall.

Perfect words for a perfect fantasy,
Cause one can never have such perfection...

It came from nowhere,
We're just friends.
A kiss or touch of the hand
Mean nothing unless with you.
A flirt or wink are nearly gestures
Unless untelling you, "I love you."

Real words for our unperfect reality.
One can tell from their familiarity.

Get away and leave at once.
Your face is one of a prince I once knew.
Your touch is one of perfection I used to feel.
Your lips are those who stole my first kiss.
Now all i see are lies and rejection.

Saddened words for my broken heart.
No one like you has ever hurt me
As much as you do.

You hold her waist and look away.
I hold my breath and start to cry.
Your eyes are pitch black from a souless body.
My body's heartless from a stupid boy.
Your hands have found a new accesory.
Mine shake from a loss of something
That never was....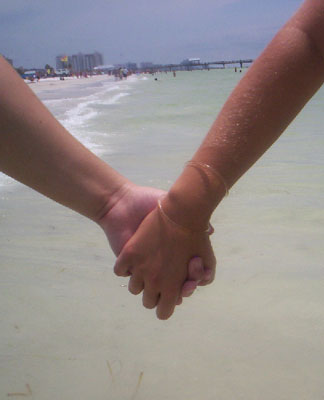 © Belinda H., Palm Harbor, FL