The Wall Has A Shadow
May 24, 2012
Dark iron- forged from the
breath of Carnegie- runs north to south, eight feet high. Curious, observing eyesight- deterred by a heavy stucco wall- looks onward.

Big business boys and their obnoxious toys fill the levitown palaces within the walled aloof fantasies of the alienated, blue-collar bus boy with an $8.15 pay rate for a wife and two kids.

The cornucopia of luxuries dissociated with the predicament of the man in the street by the tragically alleviating stucco and iron wall.

Eight feet high to negate the lives of the destitute, food stamp prostitutes who whore- not for money- but for life. Who get by through depressed will and strife while the well-to-do richlings, within the stucco and iron, sip sweet apple martinis and snort sick substance through Benjamin notes.

Incidentally- the more massive the mansions- the higher and more formidable the stucco and iron stands. Piercing the horizon, the wall stands rigid as dead weight, impeding the concoction of capital and indigence. Abstrusely sheathing the moneyed persons mind from the astringent existence on the less desirable side of the stucco and iron.

The struggling, star-crossed, sapling youth observe a bleak disadvantaged future of toil and the eternal continuation of their lineage of perpetual emptiness and grief.

Meanwhile, Daddy Warbucks sits straight, in his prearranged library of pristine, unread books. He thumbs feverously through a filtered and fluffed conservative journal that headlines, "All is Well," and then he orders the stucco and iron be built another three feet higher.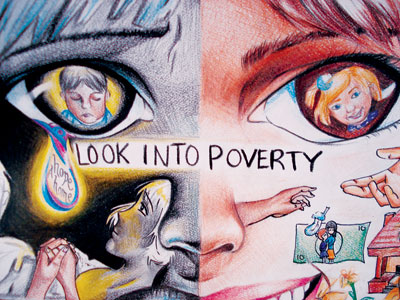 © Shirley L., Chino Hills, CA