Winds
July 11, 2012
Breaking For Air, I Gasp
Thoughts Swirling In The Mist
That I Can No Longer Clasp.
Holding By A Thin String,
Bending, Twisting
As Words Create Haunting.
Heart Beats Lessen, As
I Reach Out.
Trying To Catch Just One Mouthful.
One Harmonic, Tempting
Breath.
Eyes Gently Fold Shut,
Falling,
To Soft Earth.
As The Pain Wretches My
Chest And Lungs.
Still Trying, I Hold Onto
The Earth.
Awakening New Breath.
That Sweet, Lucious
Mouthful Needed To Survive.
Air That I Rare To All Of
Mankind.
Yours.
Dragging Me Back, With
Blissful Music Ringing In My Ears.
Opening The Soft Eyes,
Blinking Away Tears,
Bringing Forth Light-Filled
Air.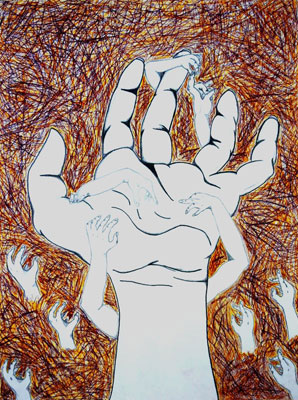 © Ariana R., New Orleans, LA