Abrade Not
July 10, 2012
He was already starting to walk away.

She felt tattered and lonesome, thrown aside like an ancient wray.

"Walk, walk you will," her heart serenaded to the gallows.

However, the benedict was merely a cart of glass.

Desolation and dejection followed her down the stairs.

"Oh, the time shall pass," they all spirited.

But oh so diminutive the passers understood.

For surely she was a basin rotting under the sun.

Nevertheless he trudged on; trekking and clumping if you will, while the burden of empty hearts hung over his ramparts.

"The donne! The donne! She ran like a fowl and burns with a pun!" The woman would preach, unconscious and encumbered, as she careened on the girder, now unable to hold anything.

The rickety old man carved timber to pass the day.

Silent, warm tears trickled, and cascaded; making their way.

"Someone or something allot me a day to put together my puzzle and drown away our pain." His heart willed and wished, ever so pungently.

Momentums passed and every night in her castles in the air, his sweaty, fuzzy hands would clasp hers as he demanded she abrade from his life, and let clarity prevail.

Long after she would jolt awake, daggers would pierce her heart, thoughtfully, as if rocks on a trail. It was no castle on a cloud, yes, but the burning anticipation easing and dripping into her like a poison was now settled.

The l'homme allowed everything to just go as it pleases, tilting his head back into the brittle air biting his auburn cheeks. His heart peddled with the fury of a thousand dragons.

Stars rose to the aphotic vapors. Their bright auras protested to the spectators, adamantly.

Her grim socks slid to the windows to observe, as his followed a harder pattern on yet another side of the world.

She remained vindictive as the news came to her, shunning the game inside her head, as she already knew what had happened this curious eve.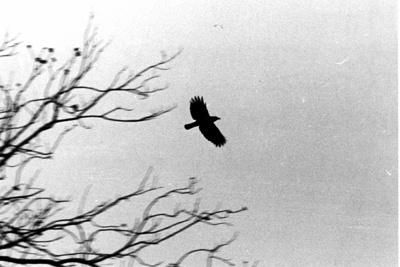 © Jacqueline T., Flowermound, TX