Fall or Stand
June 6, 2012
(tick, tick, tick)
when is your next fix?
a shoot up the veins
will surely make the pain
disappear.
A puff of the joint,
solemnly stone you.
Watch as your lungs crinkle and curl
into a new kind of wit.
how bout another sniff.
(snort)
ah, that's better.
i can feel my nerves unwind,
then twist around my heart.
The pumping begins to fade,
my eyes start to fall.
Oh wait,
whats that new powder in her hands?
some meth from the band.
Just a little wont hurt.
At least not at first.
Maybe just a pinch...
enough to get my fix.
Feel your breathe start to squeak,
hear your voice begin to shake.
(puff)
ah, listen to your heart begin to fade.
watch your teeth turn shades,
witness your eyes,
begin to bleed.
the stress may leave,
but the pain will remain,
all in your veins,
will share the same things.
You begin your mission to stand,
your head is light as air.
but your knees wont have it,
you begin to fall.
Well you are already there,
here's another round.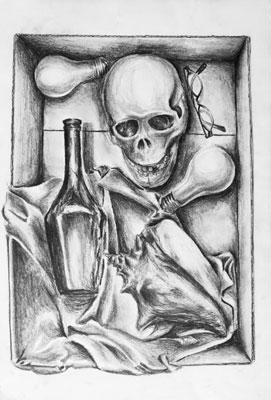 © Karen S., Norwalk, CT