A Sweetheart
July 9, 2012
A candy heart that people give to their loves.
The words usually mean nothing as you chew it.
But I wish you read my candy hearts.
As you chew my "I miss your smile" you never stop to think that it might be important.
I give you so many from "Smile please" to "You're hurting me."
You think that I don't get upset when you ignore me.
But each time you do, you might as well hear me cry.
I never knew you can control me;
That a boy can make tears run into a river.
I finally give you a whole box of candy hearts and you chew them eagerly, never once reading one.
Beginning to wonder if you even like me for me, not my body.
You hands constantly touch me.
Do you like me for me, or for my body?
Never talking to me makes me fear the worst.
You make it hard to see the light in things.
Tears running down my cheek.
I'm never uncomfortable where you place your hands or what you say,
You already destroyed my self-esteem.
What makes me uncomfortable is the next day when you never look at me.
I'm thinking I'm in love while you walk away.
Today I give you my "You're my everything." you hesitate and finally look at my candy heart.
Smiling, you take my hand, pull me in, and kiss me.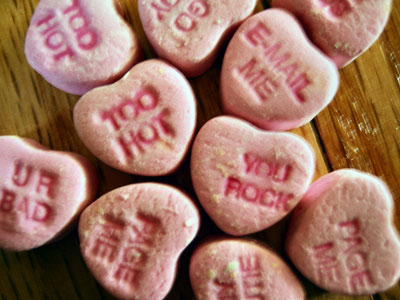 © Valcy E., Stony Point, NY