Chicken Scratch
June 8, 2012
As I sit here as a 5 year old girl I wonder why I only see my lonely mom in the stands.
I don't see you.
I never have seen you only a few torn pictures that sit in a box collecting dust
Few years have passed and not one phone call, not one visit to just see the color of your eyes, or the confidence of your stance, or the size of your shoes
All I have are a few letters that are signed by your name that states your words and presents your sloppy handwriting but no evidence has been proven by your written words.
All I know is your name, the first and the last
Not even the middle that completes it
And as I sit here now, 8 years old, there's still no sight of you in the crowded sea of mommies and daddies
No physical being of you to watch me recite my memorized lines for the school play
No physical being of hearing you come home from work as I run to the door to greet you
No physical being of you to walk me down the aisle when my day as a princess comes and you're to give me away.
Your letters profess you miss me and that you want to see me and one last three letter phrase that if I tried I could never forget, "I love you"
You love me you would say time after time letter after letter
To think you could out stupid an eight year old that no longer believes the sloppy black inked words that have been repeated to her time after time after, Daddy save your time, don't waste another breath or quick movement of your chicken scratch that I no longer believe. Mommies out fathered you now. She plays the role you never could. A Father.
A Father I have now who has taken every right of yours to call me your daughter
A father who not only writes, professes and shows me every day that he loves me
A father that I can see clearly in the stands sitting side by side with my mom
A father
12 years of age and momma says I have the length of your forehead and the curve of your nose and I wanna know, know why you signed that same chicken scratch signature that's written on every one of my saved cards on a legal document giving up all rights of me. Giving up all rights of me even though you said time after time, letter after letter, that you loved me
Tell me, did you fight for your rights as you sat in that pin dropping silent court room where the mother of your 9 year old daughter sat with the man who would take your name. Father. Did you struggle writing your signature on the dotted line as it stated above you would have no legal rights of the daughter you've never seen
Did you shed a tear, just one tear knowing that was all you had left of me, a signed document
Do I ever, even just once cross your mind, cause you do. Everyday. Everyday I wonder if you're thinking about me as much as I think about you
Everyday I wonder where you might be
Everyday I wonder if I am ever going to see the color of your eyes, the confidence of your stance or even the size of your shoes.
No longer do I receive chicken scratch letters that I could rehearse in my head before even being read
Though I'm 16 years old now and when a boy or a true friend simply states the words I love you they will be thought over twice in my head for the sake of them not being misread, just like your repetitive chicken scratch.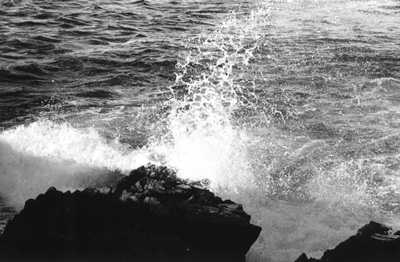 © Shira B., Marblehead, MA