Will You?
June 8, 2012
The slightest movement
Causes her to freeze-
Like deer in the headlights
Like rabbits facing their predators
Like the way her heart stops whenever you are near

Yellow stars dot the night sky
Purple clouds flirt with the moon
Black silhouettes of the city skyline broken by white lights of late-night office workers
Emerald twinkles from the Christmas lights shrouding the Flyer
Red blinking warnings tell approaching ships to stop

She notices none of it

The silence is heavy
Pressing down on her like a mystery
You shift and her heart goes into free-fall
Your arm touches hers and the parachute deploys
She holds her breath, waiting

Waiting
Waiting
Still waiting
She looks down
Get the hint already

"you need to be loved,"
You whisper, drawing her melancholic frame into a hug

Stars explode
Clouds disperse
Lights switch off

"I think so too."
Now if only you would do the job
She closes her eyes
Trying to absorb as much as she could from the moment
That she knew would never come again

Would you
Could you
Please?

You wouldn't
You couldn't
Thank you.

She is frozen yet again
From the cold empty space you left behind
Your touch lingers
Long after you disappear
She knows.

You're never coming back.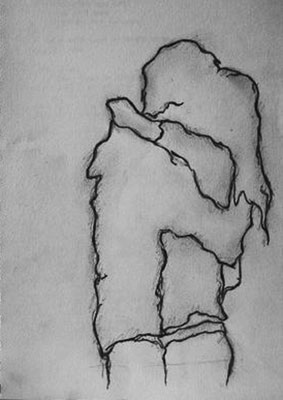 © Nicole B., Newcastle, WA