The Pyre
June 19, 2012
They move as one around their circle,
Weaving the intricate design of their dance.
The sparks fly from two stones,
Igniting the central pyre.
The black tendrils twist and grow as they rise,
Blotting out all stars and light.
The drums beat faster as the flames grow higher,
Matching the tempo of my frantic heartbeat.
I watch, still frozen in my hiding place,
Fearing what may happen when I'm exposed.
The dance and drumbeat stop at once,
Causing my breath to catch in my throat.
A man emerges with a girl in shackles,
Shaking, she walks, resigned to her fate.
The others writhe away,
Clearing a path towards the pyre.
My eyes grow wide and blood runs cold,
I run desperately for my own life.
I pause briefly to listen for pursuers,
Allowing them the chance they needed.
The net and men converge upon me,
Blocking any route to escape.
I scream in vain for anyone to help,
Wailing as I'm dragged back to the fiery altar.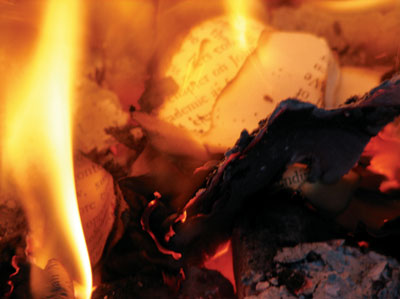 © Elizabeth H., Jordan, NY