Dark Silent Night
June 17, 2012
The pang in my stomach
that feels like regret
as I watch you
tenderly teeter down the lawn
away from me.

The pain that flashes through my blood
bringing back memories
I grasp helplessly
crying for you to come back.

Pink and cream swirled
moments of the past,
they seem like a dream

Keyed up and energetic
were we wasting time?
Yet I push myself forward
and try to forget
the happy confinements
of days before.

With an impatient gesture
I push the sharp sting
of our time.

Half-eaten grapefruits,
your fuzzy yellow slippers
running around in circles.
Pale blue eyes
Weak and watery-looking

But the bitter stink
of the smoke that came,
billowed and flowed,
sweeping up everything in its path.
Blur of gray
the scalding pain of fire.

Crshing down,
the goes
Sound of bone on bone
My chipped black nail polish fingers
make a frantic clawing gesture.
My screams
Hopelessly drowned out by
the booms
of our collapsing home

But I push myself forward
and do my best
to forget
who I lost
On that dark and silent night.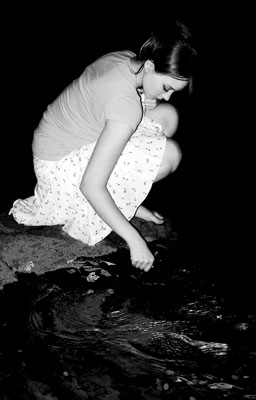 © Michelle B., Blairsville, GA