Waiting To Die
June 17, 2012
The cold table caresses my skin.
I am surrounded by white coated men.
The overhead light shines brightly into my eyes.
The men cut into me despite my protesting cries.

My face is a combination of two.
One red eye, the other blue.
Stitches travel down my face.
From a gash, an incident, a horrid place.

I have needles stuck into my arms.
They said it wouldn't cause much harm.
The needles are always there, never taken out.
But no more do I scream or shout.

Stitches lined up on my back.
They often rip open with a Crack!
Blood spills from my insides.
But no matter how much blood I loose, I just can't die.

My legs are not my own.
They belong to an animal I do not know.
An orange and black stripped beast,
That stalks you down before it feasts.

The only window in my all white room,
Has bars, locks, and chains on it too.
But there I can stare at the full moon.
A beautiful sight in a sea of doom.

Screams of others,
Pierce my ears.
Scaring and scarring me.
Filling my fears.

I sit in my room all night and day.
Scared to death that they'll take me away.
Back to that horrid place.
Where I lost the right half of my face.

The nightmares I can take anymore.
And here I watch the movement of my door.
But still I see a shadow on the outside.
And this time I know for sure,
I'll die.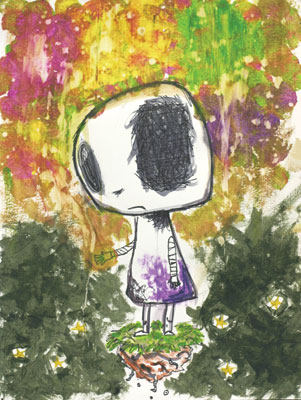 © Ashley W., Port Charlotte, FL