Heaven
May 24, 2012
With the cold breeze biting her skin,
She tightened her arms around,
The birds chirping somewhere above,
And the sky mingled with orange and purple.

It was twilight, her favorite time,
She remembered his sweet voice,
"Twilight is my favorite time,
Peaceful and beautiful",
She smiled softly as the words echoed,
Neglecting the pain that seared through her.

His face was stoned in her mind,
As though she's looking at him there,
But her heart knew otherwise,
The truth stung like a knife.

It had been ten years now,
Though she couldn't get enough,
He had said that he'll be there,
More reassuring himself than others.

But she knew better,
And also the fact that he can't leave,
Not really,
When her heart was beating still.

Tired, she got up from the bench,
Looked at the sky above,
And smiled again as he said,
Those three magical words for which she'd die.

Walking back to the house,
Was yet another task,
But with her face in determination,
She resisted just like her happiness mask.

She knew that he is close,
And yet too far,
He would always look after her,
Even though - now - when heaven tore them apart.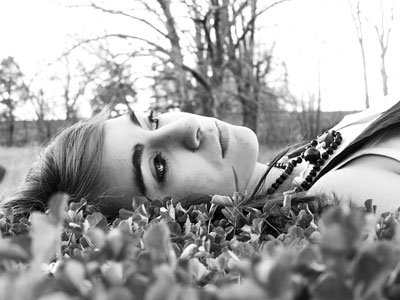 © Jasmine R., Bourbon, MI