Fight against Ism's and Skisms
July 3, 2012
Eyes in the back of his head with black iris's and pupils of blood red, his face gaunt and shallow.

His steed is burdened by the weight of hatred, crying dry tears just to taste emotion.

Viewing the world as his kingdom, building his castle out of anti-humanism, his gold throne built on ism's and skism's.

Put's the whole world in is palm, his followers are ignoramus's, lacking all emotion so to kill or be killed is painless.

This is not a man, but a version of man that got thrown up and thrown over, thinking he can destroy other's because of skin, kin and true beliefs held within.

I fight idiot's like them everyday, because they nay say against humanity as a whole, blasting holes into our conscience.

This has our nation seperated by every means, the color of my skin seems to pre-dertimine my path, but no one seems to be able to do the math that whoever says that is an ignorant pyschopath.

If you have less respect for me because I'm not your race or religion then I have no respect for you, your feeding the irrationality that we as American's should be fighting.

But people are strife with idiocy so they hate you and me for being we.

So everyday I fight prejudice and racism, here's another example, spit without rhythm.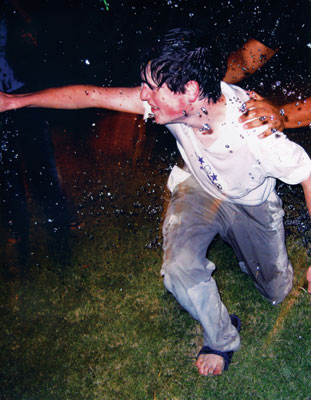 © Caroline H., Stephenville, TX