He's my best friend. Thats all, and im okay with that.
June 30, 2012
I have a best friend. My best friend, is like my family, I do everything with him. The only thing is, He's a boy. He's two years older than i am. But i have known him for almost a year now. I used to like him, but now i dont.
He is my best friend, thats all, and im okay with that, because i know that in the future, i will always have a friend, who will always be there for me.
He has a girlfriend you know, my friend thinks im trying to come in between them, but if i wanted to do that, i probably wouldn't have told him to ask her out in the first place.
My best friend's girlfriend has been acting strage, so i think shes cheating on him.... I didn't tell him for a while.... My mom told me i should 'cause it seemed like i was lying to him, and i didn't want him to know
That is partly true, cause i haven't seen him that happy in a long time, a really long time. And ever since i told him that, that is what i thought, It seems that our relationship as best friends has changed.
I used to be able to talk to him about anything, but now its like whenever i bring something up about something that he doesn't wanna talk about, he just goes away.. Before he would tell me that he didn't wanna talk about this.
But if it wasn't for him, I probably wouldn't have met this really nice guy.
And me and my best friend are always gonna has arguments, I am glad about that, because our friendship wouldn't be complete without them.
He is the first thing that i think about in the morning, and probably one of the last things i think about before i go to bed.
He is my best friend. That's all. ANd I am okay with that.
I am okay with that, because everybody needs at least one person to not be just some old crush or something, to have an awesome friendship like we do.
He is my best friend. He will be forever. Hes just my best friend, and i am completely okay with that. Because that is how it is.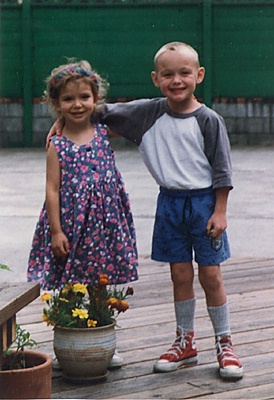 © Jacob H., Phoenix, AZ