6 Train
June 27, 2012
Every day in the summer I wait
On the platform
Feeling hot and sticky with beads
Of sweat collecting around my neck
and under my arms.
A sight for sore eyes.

The same homeless man smells like he needs a shower.
Wearing frayed jeans and worn, cracked shoes
Exposing dark toes crusted with dirt.

Two gregarious little boys are on their way to camp
Accompanied by a tired, worn mother with
Uncombed dirty blond hair.
She just dragged herself out of bed.

Two young girls ask me if the train
stops on 14th street. They giggle as
They go downstairs to catch the express.

A woman wears a short black skirt and blouse
Moist with sweat clinging to her body.
Her curly shoulder length hair
Is freshly damp from a shower.
She clings to a man she just started to date.
I can tell she still cares
because her makeup is perfectly applied,
and she is laughing at all his stupid jokes.

Three black men playing
Hip-hop with home-made instruments –
Bottles and cans of different sizes -
Are gyrating to the sound of their pulsating beat.

A man wearing tight cut-off jeans and a white t-shirt
Proudly flexes a lean muscled arm bearing a dragon tattoo.
He is accustomed to the admiring glances;
He must work out seven days a week.
It makes me thirsty to watch him
Take a huge gulp from his water bottle.

And then I notice him
Or perhaps it was he who noticed me.

I am waiting for the downtown train
And he is on the opposite side of the subway track-
Waiting for the uptown train.
I take in his pressed cuffed khaki pants,
white polo shirt, and the tousled brown curls that frame his head.
6 feet at least.

We stare at each other.
And suddenly I don't mind the wait, the dank smell of the
subway station or the excruciating heat.

He smiles and makes a hand gesture.
I break into a sweat – and this time
It is not because of the insufferable heat in the subway station.

I signal with my eyes and
my right hand makes a faint gesture.
But I don't want to appear too obvious
in case I have misunderstood.

A loud roar breaks the silence and the uptown train swallows
all of its passengers.
I look for you but, of course, you are gone.
I am left staring at the empty platform
waiting for the downtown 6 train
for an interminable time.

I can't wait to ride
the 6 train tomorrow.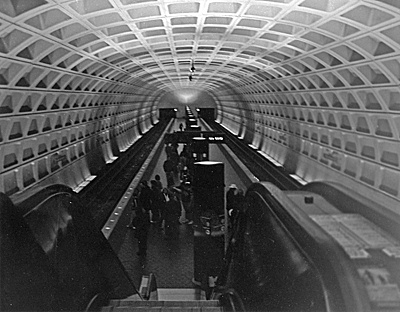 © Elysha C., McLean, VA