Once on a night
June 26, 2012
Once on a night of hazy moon
my coats were rearranged to be a sullen rainbow, necks
curled around the hangers that I could taste from my place
across the hallway. No sounds from my feet were heard
over the reverberating of air in its cell, a bent metal wand that no longer
controlled the AVAC unit. Maybe the noise was meant to mock me, saying
"Go ahead. Go ahead and run. No one will come
looking for you." And so my feet danced to nervous music, and they
made rhythm along crooked floor panes like a pianist's nimble fingers
on broken keys, the chords for whatever reason making no sound.
Maybe I did not decide to be anything contrary to the expected
until the door closed behind me. I pulled my ankles out in time to avoid
the clamor. Then I was this different sort of anxious, because it absolutely
had to be me that found you.
Imported leather gloves encased my hands in something foreign that I only find
in this kind of escapade, where my thoughts weren't exactly planned out and
instinct controlled my actions. I had forgotten about the coat. I wished
that my senses were more intact.
I do this every night, in hopes that you may have ridden
a subway or transport bus to our meeting place. I told you that waiting
was not a concern. I would stand on the sidewalk for hours. But again you did not come.
It has not rained in nearly five days and still some kind of wet is dripping
from the overhang. For some reason it cannot evaporate.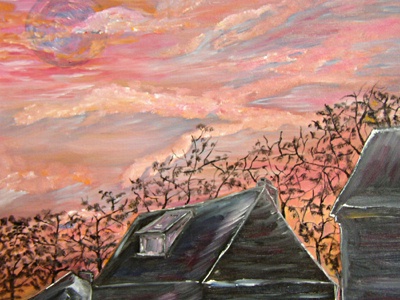 © Lauren M., Scotch Plains, NJ