Vampire Knight
June 5, 2012
I'm lying in the darkness with my eyes open.
There's cold,but second by second I don't feel it at all.
I'm starting to feel hungry,while my heart barely beats.
And I know I won't escape from this misery.

Right now,I see light,but that's because of you.
Your eyes are always smiling,allowing me to hope.
You say I'm not a monster,but you don't get it at all.
The only this you see is my illusionary beauty.

Why don't you run,before it's too late?
Your scent is all around me,my eyes gleam so red.
I'm not going to last for long,this is your last chance.
Forgive me for my nature,escape from your death.

What is this feeling? It almost makes me weak.
Your hands are touching me,your eyes are not afraid.
I can feel your temperature on my cold white skin.
I feel so warm inside your hug,my love,this is the end.

You shouldn't have even approached me,I'm not as strong as you think.
This moment that I'm talking,my mouth is touching your neck.
I feel like I'm alive,you're giving me the strength.
While the shame of what I'm going to do is making me hurt.

My princess,I can't resist to your soft fair skin.
I want to taste your blood,warming my throat and heart.
Promise it won't last long,I cannot give you anymore pain.
Even with your permission,I remain a threat.

Why do you allows this? My teeth touching your neck.
Tell me what keeps you close to this beast that I am.
I taste your blood and I want more. I feel your pulse,it's slowing down,my love.
Satisfaction is going to come only if I never stop.

My thirst controls me,your taste makes it even worse.
Am I able to stop? Why you still holding me close?
What were those words you wispered? How can this be true?
When I'm the one who's killing you,how can I be the one you love?

It's stopped princess,you made it for me.
With these words you said,I felt relief.
I want you to know that i care for you,always keep that in mind.
These words were your guard against me and these will be my pride.

Goodnight princess,I'll leave you here for now.
Let the moon looks after you,while I'm away from ya'.
Don't worry beautiful,it won't be our last night.
'Cause from now on,I'll be your Vampire Knight.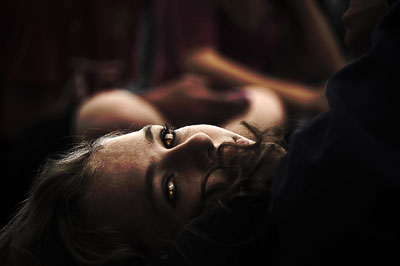 © Calvin C., Salt Lake City, UT