Smaller
June 13, 2012
Everyday is a calorie count, a binge followed by a fad diet.
Every second is an inhale, a pinch, a tooth brush at the back of my throat just to "try it".
Every day is a struggle, self analyzing and hate.
Because my thighs are much too thick, and I'll never be happy with my weight.
I want my clothes to drape, with angular collar bones that protrude.
I want thin arms and legs, with prominent cheek bones flushed with rouge.
I want a long and graceful neck, and to feel light when in his grasp.
I want a feminine and model-like waist, a thinnest point for his hands to clasp.
I want so many things, to be considered tiny and petite.
But the only way to have these "wants", is to tell myself not to eat.
My logic says it's wrong, unhealthy and will make me sick.
But my selfishness could care less, so skinny is what I pick.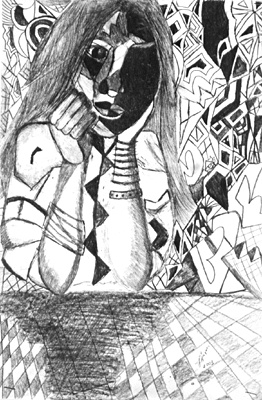 © Joy H., Kannapolis, NC