Grenades
MAG
June 12, 2012
The smoke of fireworks
held still in the
streetlamp halo,
the orange illumination
making a London fog
from hooligans' shenanigans.

It was a freeze frame
of some other cosmic time
and place, the stiff
fog hanging as though glued
there in sky. No breeze
to stir it and carry it
away.

The firecrackers crackled
in the background, lit and
exploded – jumping beans
on the asphalt. I watched
these small boys cackle and
duck as though they had thrown
grenades into enemy bunkers.
It was a cruel trick they
played in their heads and
in the blaze of light
from the explosives
I saw their souls
were laughing too.

The crick-crackling
on the side street
echoed breaking
hearts in the summer night's
weird chill. The sound was
the only one,
the sparks hopping in
a tribal dance,
so foreign to me.

I drove on, letting the
smoke hang by its wires,
letting the soldier children
laugh at their black-hearted
intents.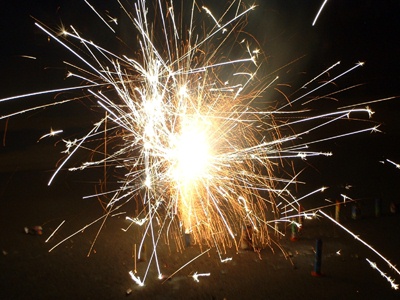 © Kevan B., Beaverton, OR