The Shadows
June 16, 2012
Terror enveloped my soul as i watched the sun sink down and the shadows come out to play.
They danced around my feet as i tried to run away wind whistling in my ears as i longed to hear more than just my heart beat.
They whispered in my ear,screamed into my soul for vengeance in the undying hunger of death and loss of warmth.
The cold enveloped me in it's grip of ice,the flames of my heart were quenched in the unbearable cold.
My breath came in raspy gasps as i struggle to breathe,watching the world around me disappear into the darkness.
Drowning in darkness,there was only my pain,my screams,my fears as i began to realize this might be the end.
I screamed into the endless night,the shadows gaining on my slow pace,my lungs retching at the excess use of precious air as i ran and ran and couldn't look back,too afraid of what i might see.
Eyes growing dark,heart beats slowing,then light,a great light underneath my feet,color dazzling as well as dangerous.
I couldn't help it,i stopped to admire what i was seeing,the beauty of the light was unbearable to look at but was worth it,even if it cost my life.
Some variation of glorious colors was overwhelming me and some joy was birthed somehow inside me
The light enticed me,began to dance with me,begging for me to stay but only so the darkness could find me,i kept running,running because when both light and darkness are after you,nothing else can be done.
I ran through the darkness,shadows clawing at my face and clothes,screaming for my blood so they may live once more.
Then the cold and icy fingers of the shadows traced my bare skin,and i began to slow and eventually come to a stop,for i was no longer afraid,i allowed them to consume me.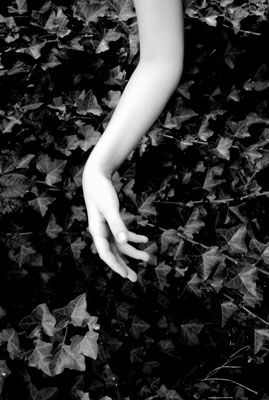 © Sarah M., Blairsville, PA