fake the way
May 26, 2012
think about what you got made, and all the things that got handed, cause one day they aint gonna matter when you out in tha world and stranded.
sadest story i eva heard is when a child has to raise themselves from birth. cant turn to anybody cause nobodys their, aint nobody listening and you kno he scared. daddy's on the floor, he keeps payin for more. you'd think he'd go somewhere else to use his liquor and wh***s. but no, aint no chance in that, cause all he sees him as is a little brat, that gets in the way and cant do s***, but what daddy doesnt realize is that he's tired of bein hit. called names all day, and doesnt want to blame, confused by the ways that the world has changed.
mama's on the street beggin for more, aint no shame in what she does, shes just a wh***. at least thats the way he was taught, trapped in this world and startin to rot. "mama, who are all these strange guys?" he asks, but in return all he gets is smacked. he's not supposed to think but he has a curious mind, as to why mama would do such a thing, just for a bunch of dimes.
hardly what you'd call shelter, more like jail. foods about the same, theres either none or its stale. he trys to push through the pain and the yelling, but all he can think about is rebeling. what good what that do? hes tryed before, the only thing he got in return is a knife to his core.
a few years travel by and the kid starts to think, maybe it'll get better, maybe it'll quit, but the only thing his family seems to do is split. 10 yrs old and is dropped off at a store. told to get out we dont want you anymore. what will he do? where will he sleep? what will he eat? its not like these questions havent been asked before, his short time in life has been a constant war.he walks down the street in search of what in store, but its not easy, hes to tired and cant think anymore. yet he thinks of a solution and thinks of it quick. it might not be the best choice but itll do the trick. he searches for the tool to complete the deed, its hard to find but he's sure its what he needs. he finally comes up to a man and asks one question, he tell he's on drugs, probably just fineshed his last session. he gets what he needs and runs. but nobody ever taught him to be safe with guns. the saftey is off and its ready to go, the little boy didnt expect the blow. with the ententions of harming his parents he takes his life instead, now you be the decider. are you gonna take for granted something as small as your bed, or are you gonna think, my life is pretty easy, at least im not dead. death might of been his way to esape but he didnt want that, no one should for gods sake. after you hear this i hope your life is changed, and rearranged. be greatful for what you got, and dont follow the trend and pretend to rot.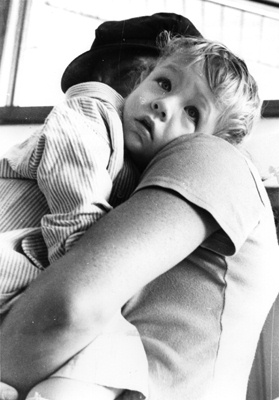 © Ali D., Cincinatti, OH