Father's Day
June 18, 2012
I can still (mostly) remember that day
three years ago, when you danced with
me in the livingroom. I was bright eyed
and smiling, all decked out in that dress
of mine; the first true dress that I owned.

I remember how high I had to reach, just
to touch your upper arms, how much
bigger your hands were, engulfing mine
in your warm fingers.

I was laughing as we swayed around
the room; I just couldn't keep a straight
face.

I wonder now, what was going through
your mind then? We were practucing
for the night I would have my first
dance with a boy. Were you watching
me grow up? Did you want to?

We smiled as the camera clicked, preserving
that night in timeless memory.

In the end, that boy brought with him my
first heart ache, and left with my first kiss.
But you stood strong through the tears,
always managing to bring a smile to my
face.

It's these moments that I think of now,
on a day we celebrate you and what
you do best.

It's now that I thank you for being
a steady base throughout the years,
and I hope you will continue to be in
the years to come.

Happy Father's Day.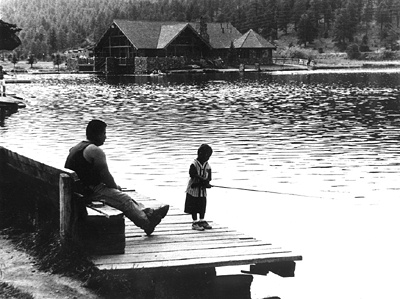 © Ryan P., Greenwood Village, CO