I Had A Dream Last Night
May 26, 2012
I had a dream last night,
this morning,
five minutes ago,
now.
We were walking down
a hallway to the stairs,
I see you walking the opposite way.
Suddenly
everyone but us vanishes,
the world grows quiet.
Only you and me.
You grab me, pull me close to the wall,
grab my shoulders,
and say nothing.
I am not scared,
for you are my souls' desire.
The heart is but an organ, muscle
in our anatomy.
Our souls meshed
together
from the moment
we stepped into the same
room four years ago.
I hear you asking me
something allowed.
I don't hear you,
so i ask you to repeat.
WHAT NOW!?
your eyes plead.
I LOVE YOU
i seem to scream.
Your face grows pale,
as you tell me you've always loved me, always will.
We embrace with the
young love
we possess.
I LOVE YOU
we both say.
In reality after the dream
I see you look at me
with an intensity.
I LOVE YOU
our eyes seem to say.
I Love You,
forever, and a day.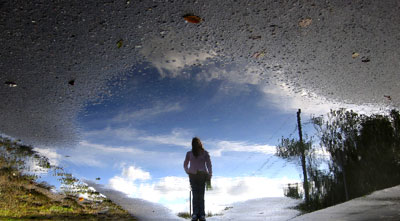 © Daniel H., Oak Bluffs, MA