Thunder
May 26, 2012
The rain use to tickle my fear center, creating fantasy illusions of loss and terror.
I would sit in my room, surround myself with surreal images of characters and play, which I delicately painted across sheets of empty white.
Summer.
It was never the same as it had once been.
I use to long for quiet, pretending, loneliness.
Peace, calm.
I would sit alone for hours, thinking. Creating imaginary stories of love and desired things. No friend could occupy my time like I could.
The summer I left was bittersweet. No care, really. I was young, the summer was new.
You were me, but different. You were the other half, the part of me I had hidden from everyone but myself for so long.
I cautiously guided you towards my secrets, and hid you from my hate.
You decorated the artificially brightened nights with joy and love, fun and the feeling of forever.
Forever.
My dreams were new. I hid from old games, played with you now, in the lightest parts of my mind, which I had prior kept to myself for the days when winter was at it's slowest.
And as the sky dashed yellow and orange with hate, I watched you from the other side of the car, shivering cold beneath my towel, smiling back at me. Our minds both racing to prepare for the games we'd continue at home.
Rain brought different games.
Bright games were humor games, were funny games, were summer games.
Rain games were feeling games. Through dolls and paper we pulled one another throughout our memories.
I took pictures of you. They remain hidden, I don't look at them. I picture you how you were.
Winter's been at it's slowest, Thunder.
To retrieve any great memory of my childhood, I must first dip deep through you.
You're the deepest liquid blue.
I dive. I push.
I can almost see you, sitting there gently on the bottom. Your childhood hair draped down your back. Your eyes full of life, promise.
The water feeds gentile memories to my longing ears. It makes me want to stay, but I can't. I'll drown.
I wanna drown.
Deep in downhill moments you tumbled towards my door, and I welcomed you in.
You're a main character in my childhood story.
High off new feelings we explored elder tasks, which I blamed on you.
Resting above the clouds, I had forgotten it could rain.
You pulled me down with you, Thunder.
For a while, I was still glued to your love, your memories, your smell. I refused to play in the rain like I once had, for I didn't want to wash you away. I thought if you saw me out there, Thunder, that you'd wash me away.
With the coming of less blissful years, you showed me what went wrong, but didn't teach me how to cure it.
I was left alone.
Or maybe I left you.
The summer nights faded earlier, and the lights flickered out.
I watched you from a distance, wishing to step back into your puddle, see my reflection beside yours.
But your reflection no longer matched mine, you wore a mask.
You wore it for too long, and now it's you.
The thunder I thought would be the same for the rest of summers to come, isn't. It's further away, and it doesn't scare me anymore.
It doesn't provoke fantasy, and it doesn't weave fear.
It's not a game anymore, because I won.
As I watch you now, two steps away from me in the dimmed school halls, I fail to even pass a glance.
The rain I wanted to hear tapping against my window through every storm I now ignore.
People aren't the only ones who lie. Lying is an element.
During the storms, I can still hear you play outside, your feverish laughter crackling through the air.
But I learned to play indoor games.
Whenever I hear the summer rain, I'll welcome myself back to you.
But only to dine on sweet memories, for I'm too young to drown.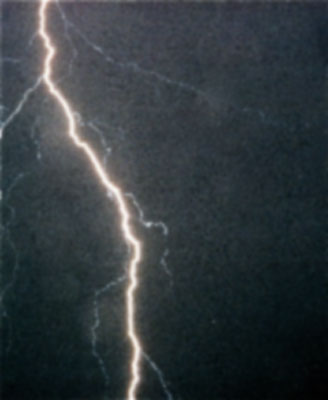 © Zachary C., Arlington, TN