Somwhere In The World Out There
June 7, 2012
I can't make out the words on the necklace in my hand.

It is half of someone's heart.

"Best friends forever."

But it doesn't say that.

The best guess I can make is it says something in Spanish.

"Mejores amigos para siempre."

But that's too long for a necklace.

Somewhere in the world out there,

Someone is missing a best friend.

I found this necklace in a thrift store.

It make me wonder.

What happened between these friends?

Were they close?

Was it two sisters?

Did someone die?

Were they lovers; unaccepted by society?

The necklace has a stick figure girl on it,

And a word is cut off in the break.

I have the left side.

Somewhere in the world out there,

Someone is missing a best friend.

I would wear it to school, and people would ask,

"Who has the other half?"

I would just walk away; cliff hanger.

Because that was a question I couldn't answer..

Sometimes I would say,

"I don't know, I don't have a best friend. I got it at a thrift store."

Whenever someone asked, it made me sad.

Because I know I don't have a best friend,

And maybe I never will.

But somewhere out there, maybe...

Just maybe..

We will find each other..

That has always been a dream of mine.

Maybe my other half has been searching for me all along.

Isn't that what a best friend is?

Your other half, right?

Like I said, I wouldn't know.

This necklace makes me sad and hopeful all at once.

Maybe the person who has the other half doesn't even know the necklace had been tossed into a plastic bag; awaiting pick up by the Goodwill.

Maybe one day I will find them.

We will hug, or stand awkwardly;

Gazing just above each others collar bones; at the necklaces.

Maybe she will yell.

What right do I have to her memories?

All I did was pay 76 cents.

Or maybe, I will meet a stranger.

And maybe this person will have been looking for me all along too..

Trying to find out the story behind the half they posses.

But we won't know the secrets..

But maybe...

We could write our own story together.

As if the universe found the only two people in the whole world who were lost without:

A companion.

A wing woman.

A comedian.

A shoulder to cry on.

...All those things that make up; a best friend.

Because somewhere in the world out there,

Someone is missing a best friend.

Just. Like Me.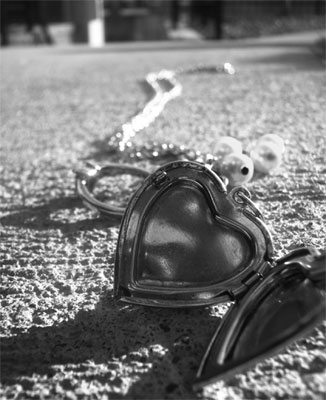 © Francesca Y., Robbinsdale, MN