Off to war
June 7, 2012
Aren't you sad?
The smiles
The laughter
The pillow forts in the corner of a basement will be gone.
He could always make you laugh.
And you dragged him around on a fluffy chair
All because of his smiling eyes.
Those smiling eyes that can squeeze a smile out of the most unhappy ones.
Those eyes that have the ability to make you melt
Give in to his stupid requests
Until you push him around on the floor
Laughing all the while.
Don't you realize?
That smile will never be the same.
The horrors will contaminate
That smile I know you love so well.
His young face, bubbling over with the desire to please
Will have the words of horrors scribbled all over.
Between his eyes, under his lip, all the smile lines faded
And replaced with the heavy burden of what he will have seen.
And does it bother you?
The person I know you worship
The one to make hot tears run into your dimples
From the laughter he gives you.
The one want to please,
To make those around him see the happy in the world.
His life goal is to kill.
To put a bush on his head and a death stick in his hand
And hide in the bushes and wait for his prey.
There will be others to save,
But he will have to sit back and watch his friends die.
What have we done to make him aspire towards death?
There are so few like him
So few who can see the good in everyone
Make the turtle crawl out of his sweatery shell
And explore
And play some games here and there.
So few who can smile from his eyes to his toes
And put his smile on everyone else's lips.
He won't come back.
Maybe he'll arrive on your doorstep without a body
Without a soul.
Even if his arms and legs and head are spared
Those arms he wraps around you in attempt to warm your heart,
His soul will be gone.
His heart will be heavy
Beating painfully in his chest
Wanting to go back
And unsee all the blood and torture and guilt
But it will be too late.
You will be a lonesome Jill, as you will have lost your Jack.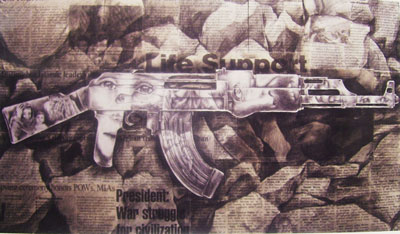 © Claire V., Lubbock, TX