Literacy as It Comes and Goes
MAG
June 9, 2012
I would liken it to a complete loss of space,
the fervent desperation felt at a pivotal moment, cut away like threads from a sweater,
rudely leaving behind an unwoven piece.
And yet the color of the language wraps itself around my mind in furious tangles:
When I write
I can pretend
I'm something other
Than what I am.

The silliness of the prose insults me.
I trample it under a herd of clichés –
the delete key is so smudged it screams to be replaced.
And it's terrifying, this loss of language;
I should be done by now, newly printed, fresh-minted.
It must be windy.
Inspiration should spark like (here's a weary phrase) a chalky matchstick.

Still here I am
Empty-saucer writer
Tea's gone cold,
Blank page challenging my essence.
This is not writer's block, perfectionist touches, none of that.
The words have fled, and the keys look like symbols again:
Not a good sign.
By now they'd be running through my veins, electric blue,
Alpha Centauri burning away my arteries.

Power is fickle!
Elusive little things they are,
My words.
They come full circle, curving around my head, bright blue to tame, docile orange.
Words simply can't be orange; everyone knows words are furious blue,
the Universe at night, illuminated.
It's necessary. Crucial, even.
How else will I know I'm real?

It's deeply unfair that in my time of need I am left with nothing,
all burnt-up like a Jack Pine forest,
a shriveled cone falling away as the seeds are released.
Hopefully they take root, grow me a nice metaphor.
Because without my words,
all I've got is reality.
Which, by the way,
is yellow.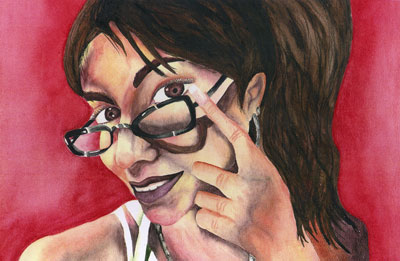 © Colleen P., Jackson Heights, NY