Do You See Me?
May 30, 2012
Why am I here?
I wake up questioning my existence
Why am I living?
Invisible, that's me
I am who no one sees
UGLY
COVERED with bruises
Who am I confusing?
My heart, pumping painful blood
My pillow, soaked in all my tears
Because when I sleep
I dream of my fears.

Over the years
It became only nightmares
I try to open my mouth,
The words won't come out
I fear going home because that's where I'm all alone
NO ONE can see me here
NO ONE cares to listen there
So I ask again,
Why am I here?

My eyes are DREADFUL and HEAVY
My body is DRAINED
I feel like a prisoner,
Locked in all these chains
But it's funny,
How no one would know
Because the smile hides my pain
And I won't let it show
Because I am ASHAMED
But I'm the only one to blame.

My sorrow is sadness
I'm a "WORTHLESS PIECE OF S***;"
Those words are engraved in my heart
And I'm beginning to believe
Because that's the only love I receive
I guess that's okay with me
Because neither here or there
Or ANYWHERE
Will I be seen or heard
So I ask again,
Why am I here?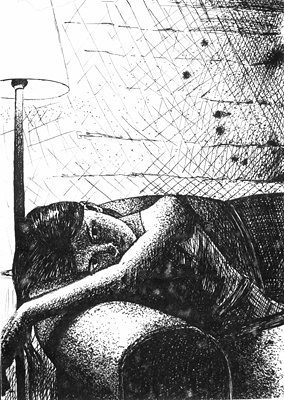 © Elisabeth R., Elmont, NY