Joyce In the Moon
June 9, 2012
Joyce, I deeply miss you
I miss your sons, Ben and Chris, too.
Yesterday, I shared a piece about Death in class
I choked; he shattered my heart like glass.

You, out of all, never deserved to die.
You believed in God; you never lied.
Family starvation made up December
Henry's, hot food you brought - I remember.

Why did Death come to take you away?
No matter how much, we failed to persuade
That your "Laugh Out Loud" sticker stuck on the refrigerator
Should have been your reason to live, not your terminator.

Death never warned you
Hiding in your stomach pipes, coiled to construe.
Piercing his cold finger into your warm heart
Clawing his way to your demise, your depart.

Optimist, believer, a loving savior you are
No! This is wrong – you shouldn't be so far.
You toiled and labored, no leisure in your way
Yet embraced the heartless soil where you lay.

Joyce, come back and leave your rags
To hell with that cancer that led to the tag.
The tag that stated your time, cause of death
Exposed the cancer that took away your breath.

Why did you have to stomach the pain?
Stomach cancer – convulsions, chemo in vain.
Your loss of brown, lilac-scented hair
So beautiful, soft, simply unfair.

I scream, my heart pangs, I do nothing but moan,
You had life, color, enough energy to loan.
You were a mother, a donor, a lover of all
With the biggest heart yet a body so small.

"Bye bye, mommy",
Cried Chris and Benny.
"Bye bye, honey",
The first smile that was sunny.

Death came and whisked you away,
I know you are in heaven, I'll pray.
The sunflower you loved resides in our yard
He was planted with your loving heart.

Jolts of loss seize to escape my mind
Nor the six-inch cherry smile you left behind.
Joyce, one day, I'll see you soon
As I get one step closer, one step to the moon.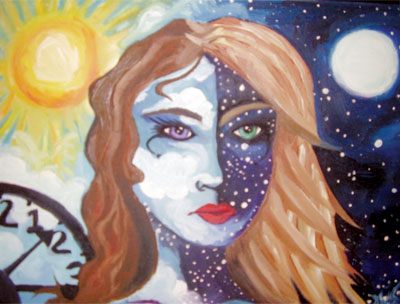 © Amanda S., Attleboro, MA