Locomotor
June 2, 2012
I rode the rails from St. Louis to Chicago
also rode them many other places
downtown where my soul settles into its excitement
and back to wherever I have to be, Purple and Blue, in and out
of neighborhoods like Lakeview, suburbs like South Elgin
stretching my limbs across the Midwest
leaving breadcrumb trails so I could always find my way
home, and so you could follow me
when you met my friends John Merlo, Ann Sather, or the 81 bus
even though a lot of times we got lost
the trail becomes circuitous, like spokes of a wheel.

I rode my bicycle
forty miles without any training.
Unintuitive as it seems, we're built for it, this wandering.
I didn't know where I was going;
I wasn't going anywhere;
but I know where I am—
right smack in the middle of everywhere,
I am with you here, with me here, center.
The trail always leads the same place, like
tunnel vision

around and around
underneath the low-hanging coniferous
branches in front of the holiday hearth.

I shone my beacon
and put on my reflectors
and as I went along, I didn't realize my cowcatcher
was bowling whole directions out of the way
smooth eraser.

And with that oblivion
went what is called "forward"
because I dismounted
not realizing the engine with power pushes
backwards, pedal-stroke pistons.

I was destined to meet you back where I started
at home.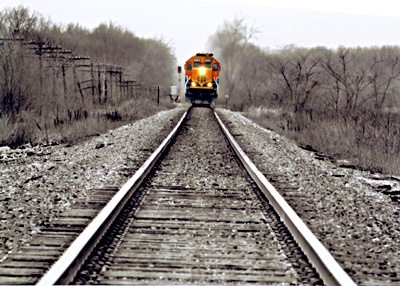 © Matt D., St Peters, MO