Dream Drops
June 2, 2012
A puddle of dreams,
evolving from razor sharp tears.
My tears gather there.
A constant reminder,
of the almost unbearable pain.
I take a close look
at my regrets
at my happy times
at my life at that point
and everything it was slowly becoming.
I never thought
I would get to
this place.
This place
Where I feel like I've let go
and my life is spiraling
out of my control.
I put up a pretty good front,
but those who love me the most
can see me withering away.
Some try and look past my agony,
the think i should be past it,
I should be okay,
but they haven't been through,
what I've been through.
Some pretend to care,
but I can see past their false affection.
I need people who understand me,
not the ones who try to make me
be what they want.
Who knew that one little girl
could break me down to almost nothing.
When I looked into my sister's eyes, I had no idea that one day,
I would wake up and realize
she's gone from me.
My biggest fears
are my reality.
Her baby features,
beautiful blue eyes,
bunny soft skin,
charismatic laugh,
wouldn't stay fresh on my mind.
That I forget what she looked like,
what she sounded like,
and it hurts
that even if I stare at her picture
it lacks a thousand words,
it only brings a thousand tears.
I try to look forward
and not back,
back at the memories
and all the heart warming laughter
she brought my family.
The past swallows me up.
I wish
i could live there for a while.
Go back and make more of what God gave to me.
Not what someone who tries to play God
Thought they gave to me.
He gave me an overwhelming love
and an aching pain I never imagined.
I went from my life feeling complete,
to feeling lost in myself.
Love is powerful,
sometimes I cry,
I feel sorry for myself,
I hurt for my baby sister,
I dive into a snap depression.
That lasts only as quickly as it starts,
and I suck it up,
wipe the wet dry,
and put Hayes away for a while.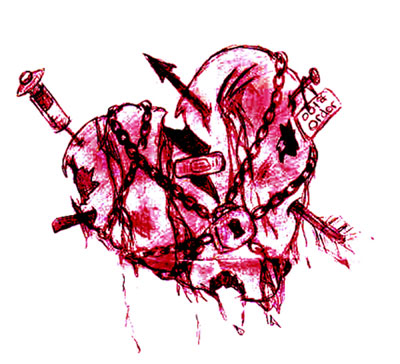 © Asia B., Hudson, MA