My Eyes That Marvel the Sky
June 4, 2012
When do words stop becoming words and transform to a display of art?

The confusion fills my head, racing. All my thoughts have been centered. To one thing. To one person. I'll stare into a vast emptiness, an emptiness that doesn't end. And I will think.

Of my angel. My wingless angel. Of his shining eyes and softly spoken voice does my mind recall. How my angel speaks of me, oh how it sent me to a state of bliss. To a state where I did not believe I could ever abandon. It was where we belonged, him and I.

But now my angel speaks of another. My love betrays me, for he has given me back my heart, shattered. Shattered and irreversibly damaged. For he wraps his beautiful arms around another girl. A girl who has no idea what she has done to me. But, I cannot place blame on anyone except myself. Letting my foolish actions take the better of me. Letting my heart speak for itself. Living, all off of ignorance that I could have had life with my angel. I myself am only at fault.

I told myself that I would not rest until he is in my arms once more. In spite of all that I had been put through, I was convinced he did not belong with her. She could never own up, and give what I was willing to give: the world.

And when my angel falls, when he hides behind his veil of broken dreams, when he lays with his hopeless cries and when he gazes and asks for me...

I will look away. With disgust shadowing my eyes.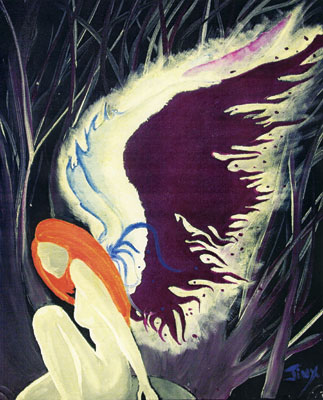 © Megan B., Youngstown, OH