Sugar Coating
June 4, 2012
Motivational posters try so hard don't they?

Look, Work Ethic; I appreciate the effort but you are 30 X. 22 inches backed by an ink print thinner than father's hair, your edges aren't quite far enough and sister's pot smoke can crouch around corners so I think you and Acceptance should talk sometime.

And Self Respect, the girl you are spread above wears pants tighter than my temper, and a blouse 4 inches shorter than you are, the dust that keeps you warm at night has always been quick to quit you, don't try and fool yourself, worth makes you look fat.

Determination... We've all been told that paper beats rock but you've got a pretty big rock to contend with out there, the entire world is slipping from your grasp and pouncing at our eardrums, the air vents smell strangely of taxes and guerrilla fighters, get over yourself.

There are no such things to console us out there, we know you are all lying through your staples, stop f***ing sugar coating the world for us, we want to see those terrible looming walls behind you.

Patience; you'd best get out of my way, I have things to run from outside this cushy fake
oom. We are seventeen, old enough to know that the weight on our shoulders could rip you, have you ever seen death? Have you ever loved? Isn't that the right of passage? We're older than you are, our teeth were grown before you were spat out of a printer, stop shoving life lessons down our throats, we could swallow on our own at birth.

We know.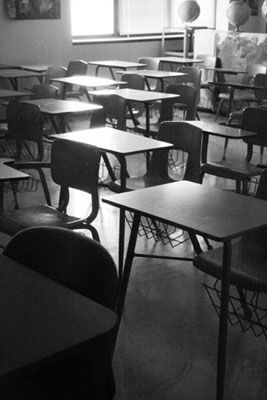 © Sean C., Princeton, IL