Frail wings and tattered desires.
June 3, 2012
On frail wings and tattered desires, I fly, or attempt such, and fall in a descent of fire.
My pride is wounded, my soul worn, but the hair on my head has nary been shorn.
I rise, to gain meager footing, and am abashed to witness a single soul: looking.
What she has noticed, I am not sure, but her presence most certainly does not disturb.
She approaches, and I shield my figure: bloody and inconsistent.
She attempts a touch, and I allow her with little resistance.
She is soothing; compromising with a hint of lust.
My instinct is to kill her but, even for me, that would not be just.
We envelope, we elope, we succumb to each other.
She cures my ailments, my faults. I even cease to stutter.
We dance; lose all track of land.
When I notice the pulling of her hand.
She is dragging me to a better place; free of my kind.
I now know that we can never truly be, and one of us must be left behind.
So, in an instant, I grasp her in my debilitating arms.
With near suffocation, she wont get far.
She choke, spits and claws at my hands: round her throat.
She she only knew, by enticing me, the fate she chose.
With her last breath, as her eyes drain, she asks me, "Why, my love?"
I respond, simply, that I am wretched and am not welcome above.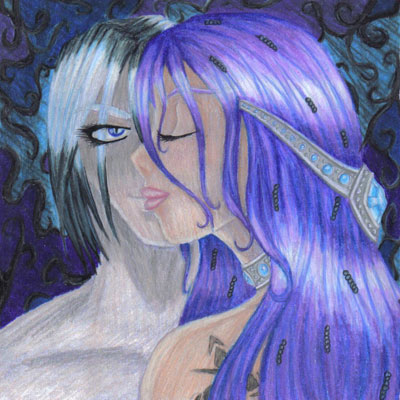 © Kelly K., Fort Collins, CO